Holiday Market Pricing 2017

Caviar
Specialty Meats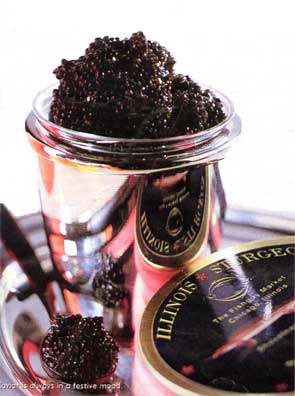 Royal Oscietre Caviar
We are the master importer from Bulgaria
500 gram tin (1.1 lb.)
$1300.00

4 oz. glass jar.
$375.00

1 oz. glass jar.
$95.00

Illinois Sturgeon Caviar

4 oz. $155.00 Sold Out
1 oz. $ 45.00 Sold Out

Golden Illinois Bowfin Caviar
4 oz. $155.00 Sold Out
1 oz. $45.00 Sold Out

Alaskan Sockeye Salmon Caviar
1 oz. 18.00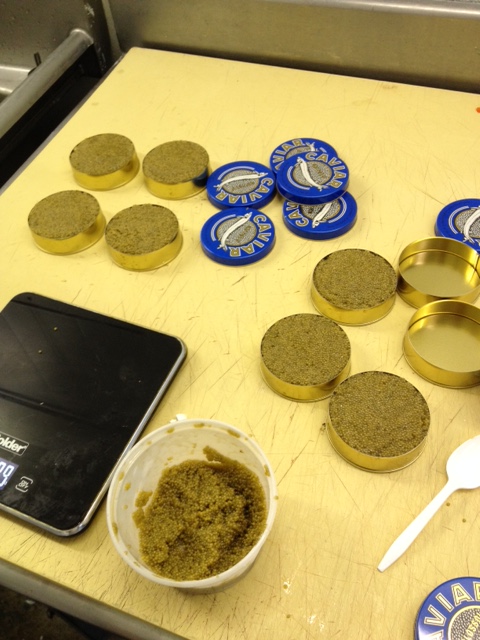 Alaskan Sockeye Salmon Caviar
1 oz. 18.00

Cape Breton Atlantic Live Lobster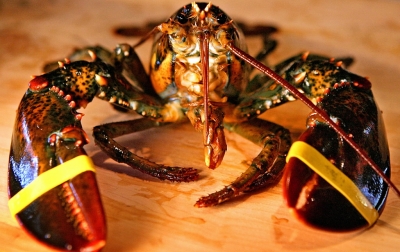 From our Live Tanks
Cape Breton Lobster

Live Cape Breton Lobster
19.00 lb.
Cape Breton Lobster Tails
32.00 lb.

Giant Brazilian Tails
38.00 lb.
Cooked Cape Breton Lobster Meat.
54.00 lb.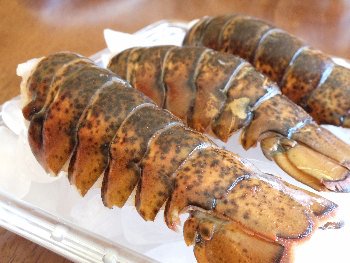 Unique to the Fishguy.
Antarctic Langostino Lobster Tails
Cleaned,Cooked Tails 60/80 per lb.
$24.00 lb.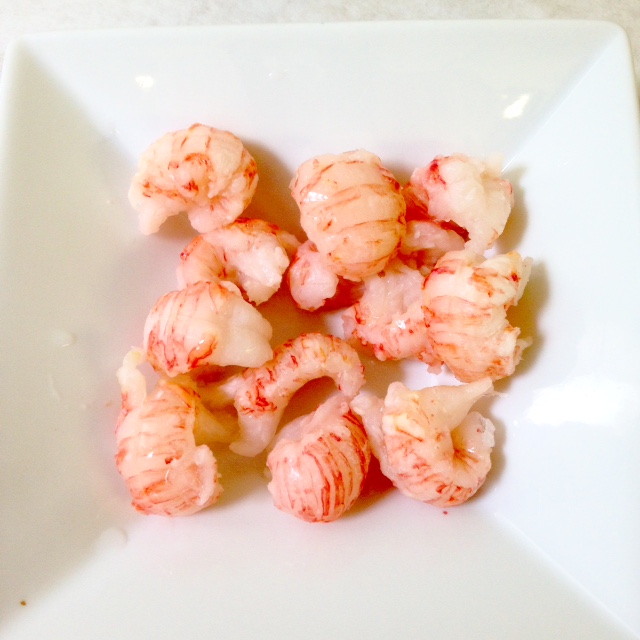 Will work for Balik Salmon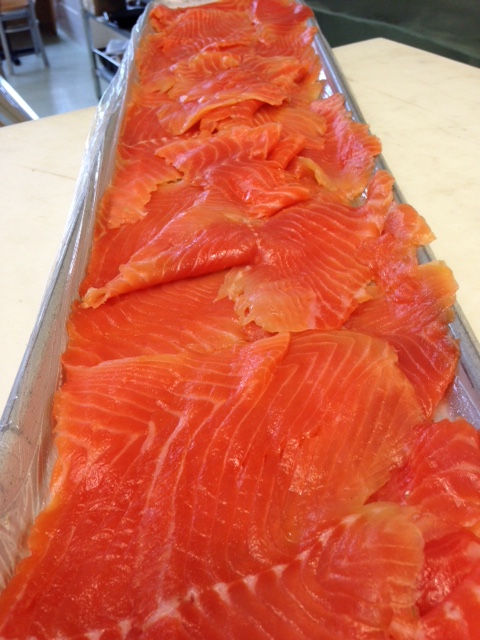 We cure Faeroe Island Salmon tenderloin,
which is cured in House with Maldon Sea salt,
that we smoke over pecan wood.
Note that we only smoke the salt, not the fish.
Juvenal then skins,deep trims, and hand slices.
Presented fresh.
If you are fond of Lox...you must try ours!
New Years Eve Canapes and New Years day bagels!
A true treat, anytime.
$34.00 lb.





Patagonian Arctic Red Prawn
Giant Pacific Scallops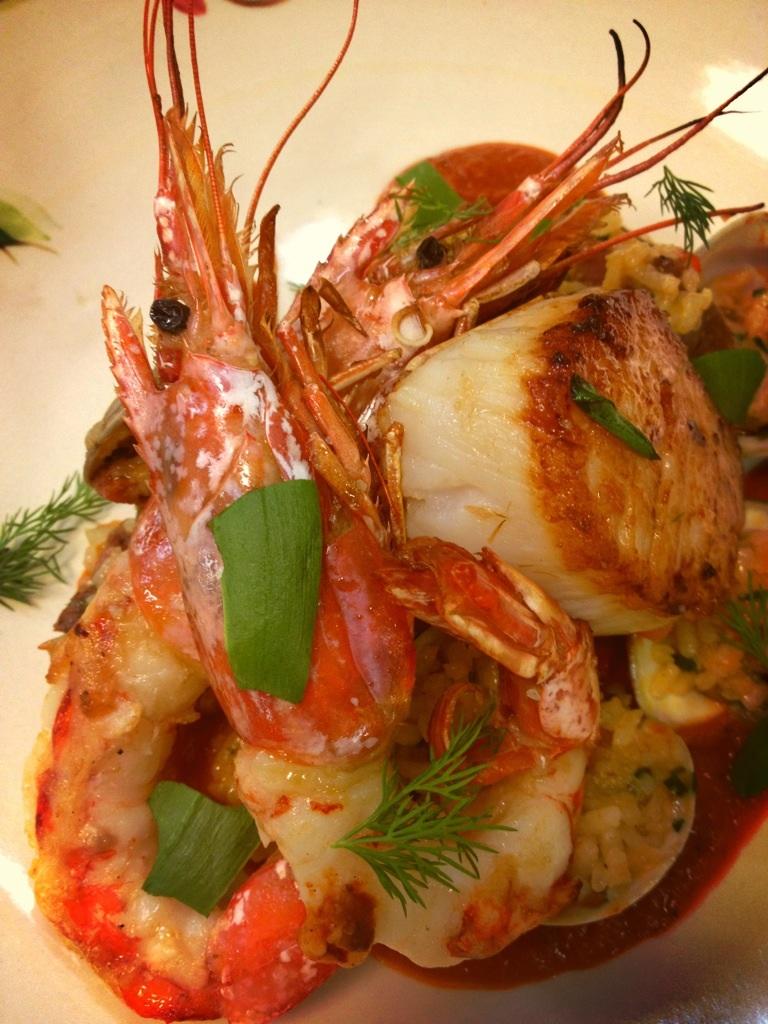 Patagonian Prawns
From the Icy,Pristine waters of the Antarctic.
7 per lb. size.
4.4 lb. box is 65.00 (about 30 per box)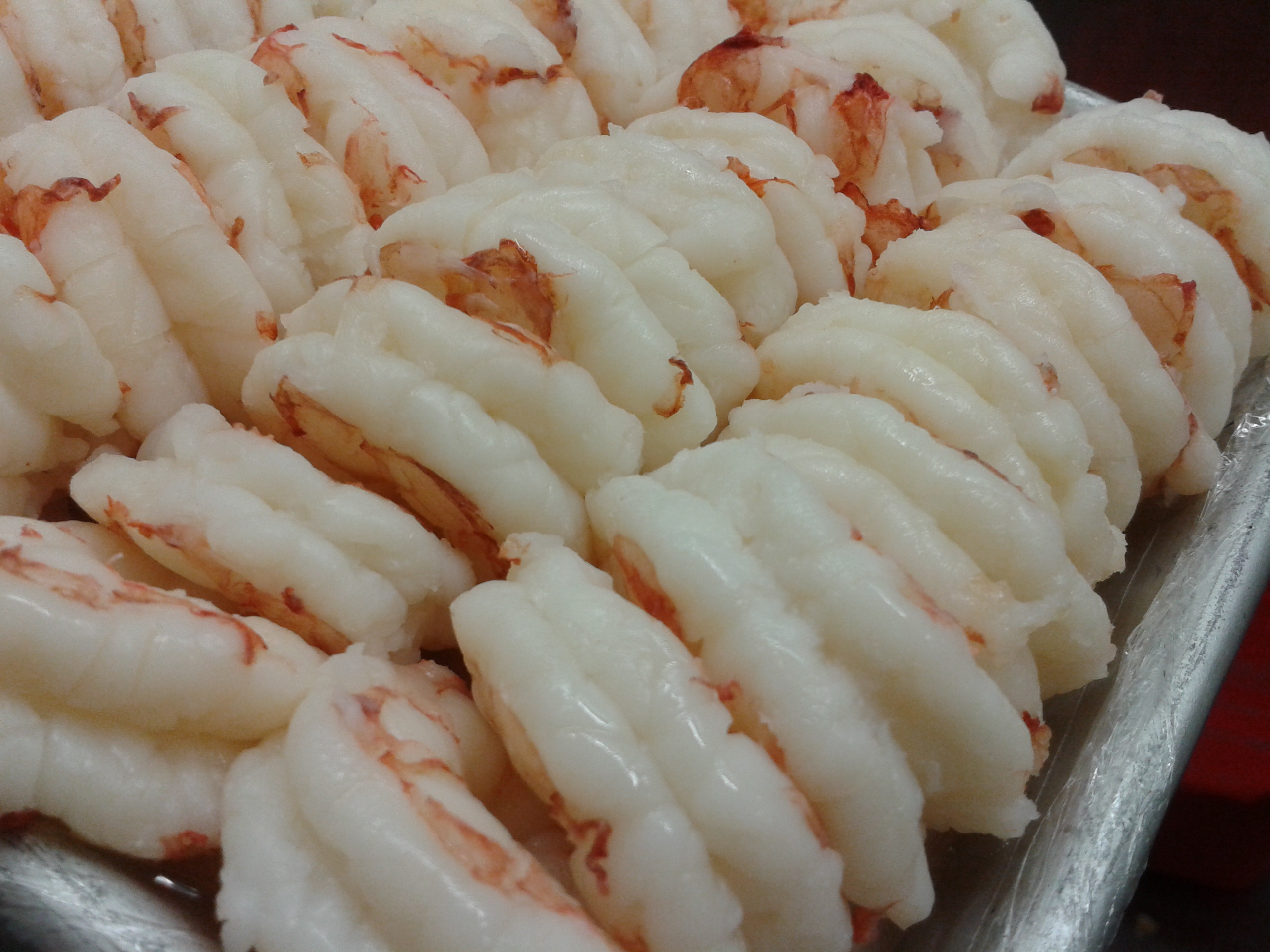 Cooked X-large (18 per lb.)
$32.00 lb.


Wild caught Raw, Peeled and Cleaned
Patagonian Red Prawns
18 per lb. $30.00 lb.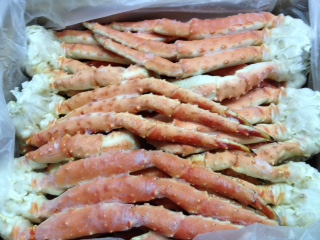 $38.00 lb.
10% off on 10 lb. or more.

Antarctic Crabmeat
24.00 lb.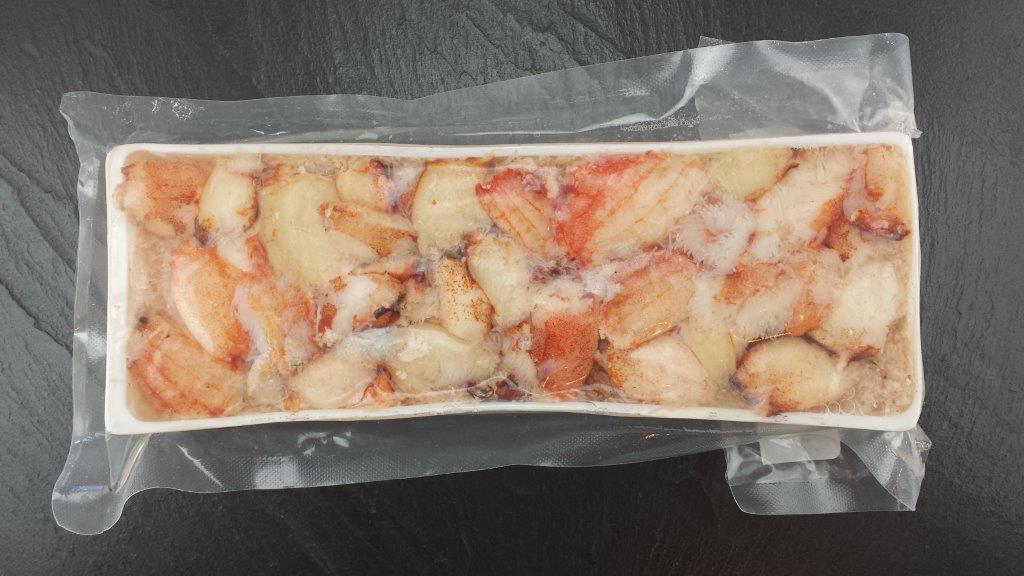 Genuine Marthas Vineyard
Bay Scallops
32.00 lb.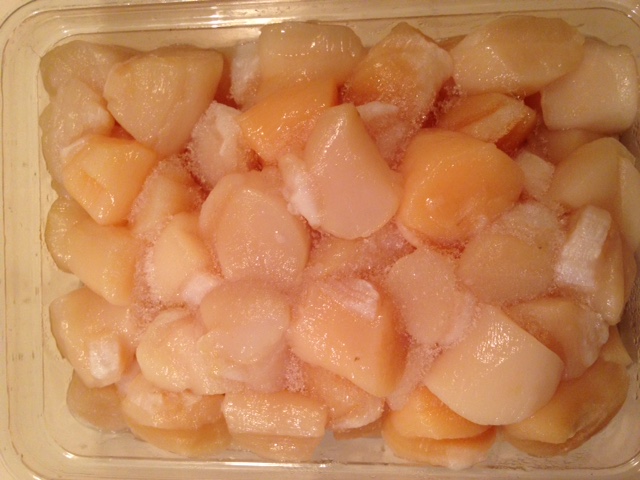 Inshore Scallop Fishery
Gulf of Maine Sea Scallop
15 per pound average 28.00 lb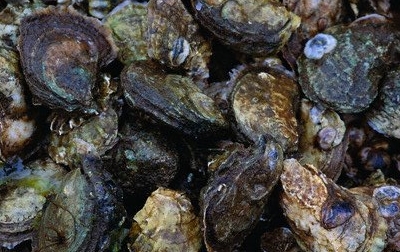 Oysters
American Select Oysters $2.00 ea.
20.00 Dozen
Selection changes seasonally.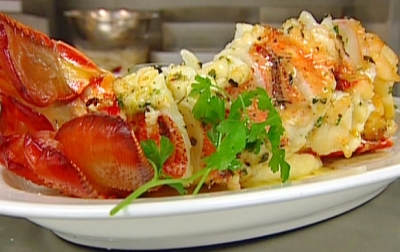 Prepared Items
Our Famous Holiday Mega Dip
(Lobster,Crab, Shrimp,Scallop)
$8.95 1/2 pint

Our Famous Faeroe Island Salmon Burgers $5.00 ea.
Halibut Burgers $6.00 ea.
Scallop Burger $8.00 ea.
Swordfish Burgers $5.00 ea.

House Cypress Smoked Irish Salmon
Fish Dip $6.95 1/2 pint
Horseradish/Meyer Lemon House Cocktail Sauce
$5.95 per 1/2 pint
Lobster Bisque $6.95 /pint

Clam Chowder $6.95 /pint
Patagonian Prawn Bisque $5.95 pint
Crab Cakes $6 ea.
Oysters Rockfeller or Stuffed Clams Casino
$2.50 ea., $24 / doz

Sushi Surf Clam Tongue Meat 24.00 lb.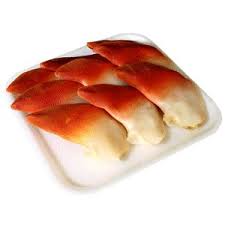 Plus daily market offerings
All meats and game are available for preorder.
Order online by clicking here or give us a call.
Purebred Wagyu Rib Eye
This is pure bloodline Wagyu.
The best bang for the buck in our opinion.
$28.00 lb.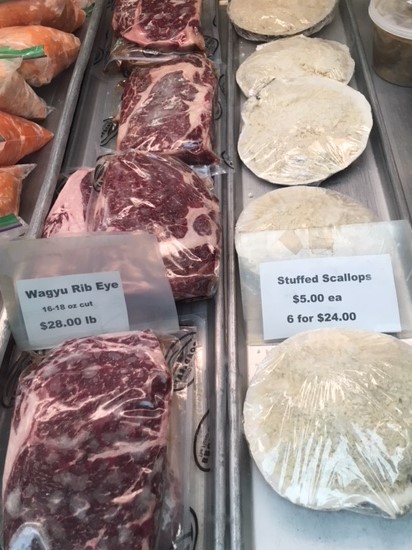 Texas Wild Boar Back Ribs
Amazing flavor.
$8.95 lb.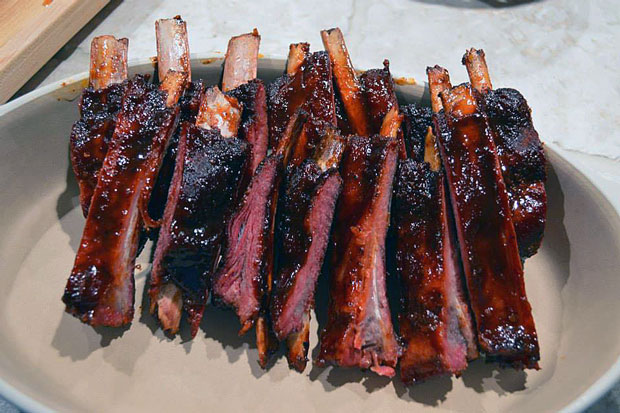 Magret Duck Breast
Avg. 1 pound per breast.
Of all our specialty seasonal products, this is my favorite.
It's difficult to find a fresh Duck breast anywhere.
$24.00 lb.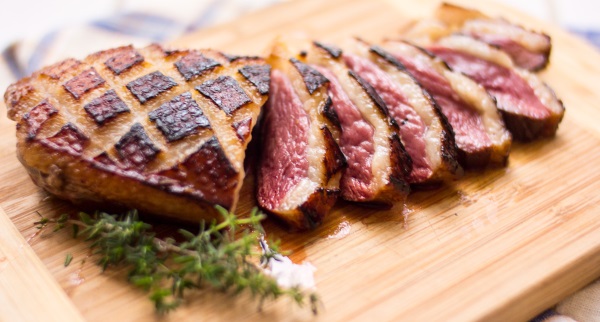 Wagyu (aka Kobe) Burgers
3 per lb. Individually vacuum sealed
$8.95 per lb.
House made Stock
Lobster
Shrimp
Fish
Veal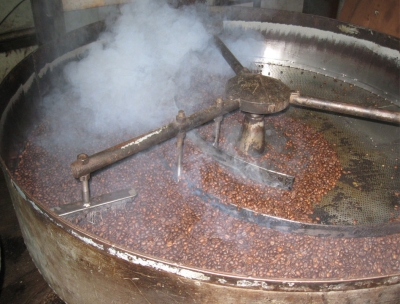 Single Origin Columbian Coffee
This is very high grade coffee.
$8.95 a full pound.
Native packaging allows for decorative gift ideas!

Sign up for our newsletter on our homepage for seasonal and daily specials along with terrific discounts and product info!