Who's Bill?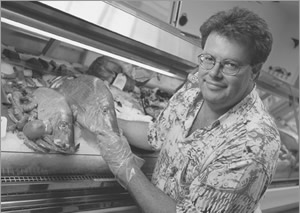 Bill "The Fish Guy" Dugan has owned and operated his own seafood companies since 1978. When some of his chef friends persuaded him to come to Chicago in 1990, he noticed a local habit of referencing various professionals as "the transmission-guy" or the "bread-guy" and thus the "The Fish Guy" was born.

In 1980, he developed a specialty smoked seafood company, called Northern Lights, and has gained considerable knowledge and expertise in the production and grading of Caviar. Bill helped develop the marketing strategies of the world's first aquacultured sturgeon (Acipenser Transmontanus), and consequently its caviar now in production. As a result he has led the way in marketing fin fish and shellfish products produced through aquaculture and mariculture.

Bill currently advises journalist's and has participated in educational programs with various organizations including Chicago's esteemed Shedd Aquarium. Mr. Dugan travels regularly to the Canadian Maritimes as a guest of the Consul General's Office in Chicago to advise fishermen and production facilities with marketing strategies.
Bill and the Fishguy Market have been featured in the following publications and television outlets: Chicago Tribune, Red Streak, Chicago Magazine, Chicago Reader, ID Magazine, Seafood Business, Takeout Business, CLTV, WMAQ-Channel 5 Morning News, ABC7's 190 North, Wild Chicago, WTTW-Channel 50, and the Taste of Chicago. Mr. Dugan has also been interviewed by National Public Radio where where he has been quoted on environmental issues. For his network of chef friends and associates, you may like to visit Globalchefs.com.